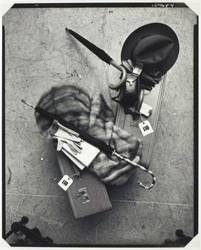 Editorial Work for Vogue
In 1941, Penn left his job at Saks Fifth Avenue to spend a year traveling through the southern United States and Mexico, painting and photographing street scenes and still lifes. During this time, Penn still aspired to be a painter and did not consider photography his primary medium. He never fully abandoned drawing and painting in his career, using it often as preparation for (or in response to) his photographic work, especially in his still lifes. Following Penn's return from Mexico in 1942, Alexander Liberman hired him to be his assistant at Vogue. Penn's first cover, a still life, was published on October 1, 1943.
The objects in Penn's still lifes for the magazine were often imbued with narrative and anthropomorphic characteristics.1 For example, Vogue Luggage, New York (1948), presents two travelers through their luggage and accessories. The man's leather suitcase at the right is topped with a hat, a pair of gloves, cigarettes, a matchbook, and a Rolleiflex camera case. A fur coat, kid gloves, and a novel sit on top of the woman's feminine cloth suitcase. The way the woman's fur coat casually spills onto the man's suitcase as well as the parallel umbrellas and matching ticket numbers all suggest a cosmopolitan trip readers of the magazine could easily recall or imagine themselves taking. Yet in other still lifes, Penn mixed stark or unappetizing elements with items of luxury, intending to jolt readers of the magazine as they turned the page. Penn referred to these still lifes as having elements of "acid, disturbing notes."2 In Summer Sleep, New York (1949), Penn showed a young woman sleeping behind a window screen, which is torn at the left. The flies on the screen are in sharp focus, while the still life behind is blurred to accentuate the sense of a stifling haze.
Around his fashion, portrait, and travel assignments in the 1950s—a remarkably busy decade—Penn continued to make still lifes for Vogue, fitting a variety of subjects into this genre, including beauty products, food, and fashion accessories. In addition to his magazine products, Penn opened the Irving Penn Studio in 1953 and began doing advertising work, for which he often used still life compositions.
In 1967, Penn began a still life project of photographing flowers for an annual series that would appear in Vogue Christmas issues. Each year, Penn would photograph unique and rare variations of a specific type of flower, including poppies, peonies, tulips, and roses. The flowers Penn chose were often slightly past their prime, "when they have already begun spotting and browning and twisting on their way back to the earth."3 Penn continued to photograph for Vogue and maintained other commercial and advertising commitments until the end of his career, exploring subjects he had pictured in his earlier still lifes, but far less often as his attention turned increasingly to personal projects.
Artistic Projects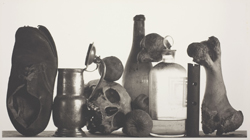 In October 1950, the Museum of Modern Art hosted the symposium "What is Modern Photography?" and Penn was one of the ten photographers invited to speak. At this time, Penn's ideas about the goals of photography were influenced by his professional relationship with Vogue as well as the foundations laid during his art school education when he studied under Alexey Brodovitch. During his talk, Penn emphasized that, "for the modern photographer, the end product is the printed page, not the photographic print."4 He continued:
The modern photographer is very conscious of the time element in the viewing of his work. He knows that his communication must be made quickly. He knows that his picture may as often be seen hurriedly in a dentist's waiting room as in a soft chair after dinner. In consideration of this time element, the modern photographer has learned the economy of means of a graphic artist. He has digested this economy and made it almost an instinctive part of his craft.5
Although Penn placed great emphasis during the symposium on the quick delivery of information in photographs, his compositions were the result of fastidious skill and attention to detail.
In 1964, Alexey Brodovitch was hosting a series of workshops on Madison Avenue in New York for photographers and students of photographers to discuss their work and the nature of photography in general. In an undated workshop session featuring Irving Penn and Richard Avedon, Penn expressed a great and clear disappointment with magazine photography:
A beautiful print is a thing in itself. Not just a halfway house to the page. Because, this way, it's heartbreak as far as I'm concerned. And I've learned the discipline of not looking at magazines when they come out, because they hurt me too much.6
As a response to his growing dissatisfaction with the magazines, Penn began experimenting with photographic processes that used precious metals in summer 1964. He settled on a process using platinum and palladium, and after mastering the technique, he began reprinting some older negatives in 1967. His first new body of work in platinum-palladium came in 1972, and it was once again a still life series—the cigarette butts. Penn followed these with views of street material in 1975, a second still life project in which garbage is given new value through its association with a venerable genre of painting and its rendering in precious metals. This approach marks a clear inversion of the work Penn did for magazines, in which luxury goods are flattened onto mass-produced, inexpensive, and essentially disposable magazine pages.
In 1979, Penn acquired a large banquet camera, using it to create a series of still lifes done in the vanitas tradition.7 Penn discussed his idea for the project:
For some years I had been accumulating scraps of material that obsessed me: bits of glass, metal, and bone; a human cranium; old sewing machines; a variety of dusts…. My intention was to make a platinum printing negative twelve-by-twenty inches right in the camera. We made thirty-two negatives between 1979 and 1980. The platinum prints themselves however took a year of work. When the prints were shown I admit I was surprised at the hostility they provoked.8
Penn grouped the material he collected for the vanitas series into compositions meant to convey allegorical meaning. The photographs in this series are, as Penn noted, more provocative than previous projects because he mixed the mundane with the morbid, especially those which include a human skull. In Still Life with Shoe, New York (1980), Penn arranged several objects in a vertical pattern: a destroyed shoe, cold metal objects, vintage glass containers, a human skull missing its jaw, and a long bone. Turned onto its side, the human skull bares its upper row of teeth in an unsettling manner that echoes the curved handle of the stein against which it leans. The vertical rhythm is punctuated by pieces of rotting fruit balanced in precarious locations: the pear tips from its perch between the necks of two glass bottles; another piece of fruit is wedged between the skull and the glass container; and an orange sits on top of the skull. Only the apple, with its sagging peel, rests on the table.
In 1986, Penn traveled to Prague to photograph a series of animal skulls at the National Museum. The skulls of different species were photographed up close against a stark white background, and the images focus on the mechanical elements of the skull: a hinged jaw and crushing teeth. In a later series, Penn photographed ten still lifes featuring the vessels that he collected throughout his life and travels. Gelatin silver, the print technique that Penn chose here after decades of work in platinum-palladium, accentuates the machine-like aggressivity of the animal skulls and the smoothness of the vessels Penn would once more return to photographing found material from the streets of New York in his 1999–2000 series Underfoot, which features 36 photographs of wads of used chewing gum and other debris printed in gelatin silver, although these prints more closely resemble Penn's platinum still lifes.
Archive Information
Series XII: Still Lifes in the Paper Archive consists of cover proofs, tearsheets, and photographs published as accompaniment to magazine articles arranged chronologically by publication title, and a notebook containing drawings of possible still life compositions in addition to correspondence regarding Penn's trip to Prague. This material includes information on flowers, animal skulls, street material, and others.
Series III: Still Life Photography in the Photographic Archive consists of black-and-white negatives, color transparencies, test prints, copy prints, contact sheets, and tearsheets in various sizes. This material includes information pertaining to flowers, street material, vanitas, and animal skulls (including test materials), as well as work done for Vogue.
---
1 Irving Penn. Objects for the Printed Page. Essen, Museum Folkwang, 2001, p. 98.
2 "Acid/disturbing notes," n.d., in notebook C8, titled "General Notes Important," n.d. (Box.FF 185.10 ).
3 Irving Penn. Flowers. New York, Harmony Books, 1980, p. 7.
4 Irving Penn, speech in symposium titled "What is Modern Photography?" at the Museum of Modern Art, New York, Oct. 20, 1950, recording, WNYC Radio Archive Collection.
5 Ibid.
6 "Richard Avedon/Irving Penn Session," n.d., in Alexey Brotodovitch Workshop Session Notes: Design Laboratory, 1964, p. 26.
7 Made popular in 17th century Dutch painting, the vanitas still life is a type of still life painting where the objects serve to remind the viewer of mortality and the transience of human life.
8 Irving Penn. Passage: A Work Record. New York, Alfred A. Knopf, 1991, p. 228.
Irving Penn. Vogue Luggage, New York, 1948. Gift of Irving Penn, 1996.227.
Irving Penn. Still Life with Shoe, New York, 1980. Gift of Irving Penn, 1996.172.