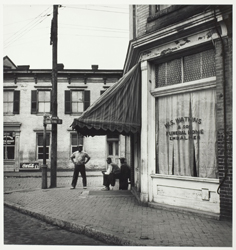 Street Photography: Early Experiments
After graduating art school, Penn moved to New York City, where he worked as a graphic designer and later an art director. On his own time, he explored the city's neighborhoods and photographed street scenes and curious window displays with a Rolleiflex camera, capturing the city's less than glamorous features with great graphic impact. Optician's Shop Window (B), New York (c. 1939), one of Penn's favorite first photographs, shows a pair of oversize painted eyes that create a face-like structure when combined with a post that acts like a nose and a flared base that suggests a mouth.1 A related early picture is Ta Tooin, the Bowery, New York (c. 1939), which shows a sign advertising services offering to conceal a black eye cosmetically. The missing letters add to the sense of urban decay in New York's Bowery neighborhood, an atmosphere documented by many artists at the time, including Reginald Marsh.
From 1941 to 1942, Penn continued these explorations on yearlong travels through the southern United States and Mexico. He photographed scenes from the train window in small-town stations across the South:
Making my way to Mexico I wandered slowly through the American South, going by train in short trips from one town to another, drawn especially to the black neighborhoods. I found the simple lettered and painted communications on the fronts of stores and buildings poignant and touching. Some of these I was able to record on film.
I found pleasure, too, in watching groups of young men, as chance composed them, lounging in front of barber shops and shoeshine parlors. The camera in my hands did not seem to intrude.2
Funeral Home, American South (1941) demonstrates these qualities: the viewer is left with the sense that the three men are not attending a funeral service but casually socializing on a convenient street corner. In addition, several examples of typography and signage are visible. At the conclusion of his trip, Penn decided he was not satisfied with his paintings and washed out his canvases. However, the trip was not a waste—Penn later noted that he took his first serious picture, an image of brooms in a shop window, while he was in Mexico.3
Travel Photography: Magazine Assignments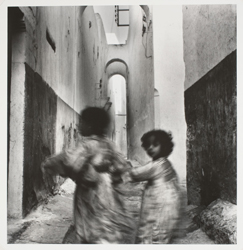 In 1946, when Penn resumed his position at Vogue after volunteering in the American Field Service for two years, he expanded his responsibilities at the magazine. Readers responded well to global interest pieces in peacetime, and Vogue as well as many other magazines began publishing photographic essays that focused on foreign places. In 1947, Penn was assigned to go on an "Around the World" trip for Vogue, and from the 1940s through the early 1960s, he received regular assignments to travel (see timeline), photographing the landscape, cultural environment, food, and people of distant cities to capture a sense of the place for Vogue's readers. These travel assignments and the resulting photo essays required a lot of editorial research and preparation, and although Penn was encouraged to take whatever photographs he wanted, there was always an agenda and an editorial concept in place for the photo essay before the trip began. The writers, editors, art directors, and photographers all worked on the feature, which was often published many months after the photographs were taken.
One of Penn's first and most influential travel assignments from Vogue was a 1951 trip to Paris to photograph people at leisure on the banks of the Seine river. Penn used color film and a telephoto lens that created a distant and blurry effect similar to pointillism. In Couple Fishing from Bank of Seine, France (1951), Penn showed a woman watching her husband fish, their reflections in the water giving off a sense of idyllic romanticism. Penn used this technique on other Vogue assignments, including trips to Spain (1951), Morocco (1951) and Crete (1964), and even in his advertising work. A photograph from the Morocco trip shows two children running down a tight alley, away from the camera, and Penn captures a sense of the country's political instability in the boys' blurry clothes and linked arms.
In 1961, Penn took his first assignment with Look magazine, a general interest publication quite different than a women's fashion magazine such as Vogue. Over the next several years, Penn traveled to France, Portugal, Sweden, and London. As with Vogue, his work for Look was organized around an editorial theme. For example, during a 1961 trip to Provence, France (the results of which were published in 1962), Penn depicted in color photographs the landscapes that had inspired painters Paul Cézanne and Claude Monet.
Readership for general interest photo essays was falling by 1970, and Look magazine published its last issue in 1971. Although this concluded a significant period of travel for Penn, it did not end his work in the genre. From the mid-1960s, Penn's travel assignments for Vogue focused almost exclusively on ethnography projects. For these series, Penn traveled to Nepal, Dahomey (now Benin), New Guinea, and Morocco, documenting the fashions and adornment of people living outside contemporary Western culture.
Archive Information
Series VII: Travel in the Paper Archive consists of correspondence, itineraries, research, and editorial ideas relating to photo essays for several magazines that Penn contributed to, including Vogue and Look.
Series X: Street Photography in the Paper Archive consists of research and tear sheets of Penn's street photography from New York City neighborhoods during the late 1930s.
Series VII: Street and Travel Photography in the Photographic Archive consists of black-and-white negatives, color transparencies, black-and-white contact sheets, and test prints in color and black-and-white of Penn's travels throughout India with the American Field Service and his magazine assignments to Barcelona, Italy, Morocco, France, and Crete.
---
1 These two photographs were published in the July 1948 issue of Vogue a decade after Penn took them in an article titled, "Inside N.Y.C." The article featured 19 portraits taken by Penn of celebrities and New York socialites, many of them featuring his famous corner device.
2 Irving Penn. Passage: A Work Record. New York, Alfred A. Knopf, 1991, p. 14.
3 "General Recall" in Notebook C8, n.d., titled "Various Remembrances." (Box.FF 185.10).
Irving Penn. Funeral Home, American South, 1941. Gift of Irving Penn, 1996.186.
Irving Penn. Running Children, Rabat, Morocco, 1951. Gift of Irving Penn, 1996.253.