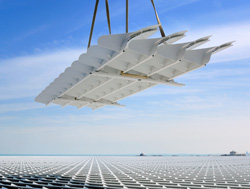 Watch a video about the green components of the Modern Wing on the Art Institute's YouTube Page.
In addition to transforming the look and feel of the Art Institute, the Modern Wing is a model of design, technology, and green architecture, maximizing natural sources of energy and minimizing waste.
Most notably, the building's unique sunshade, popularly referred to as the "flying carpet," filters daylight into the upper-level gallery spaces. Composed of computer-modeled blades developed specifically for the Art Institute's location, the screen saves electricity consumption while helping to achieve ideal lighting conditions during the day. An interior lighting system takes the benefits of the flying carpet further by adjusting for changing levels of natural light throughout the day. These automatic adjustments provide an optimal atmosphere for viewing art while saving electricity at the same time.
These lighting elements complement the Modern Wing's double-paned façade of transparent, glazed walls, which meet temperature and humidity conditions required for art while also surpassing Chicago Energy Code requirements. These measures are in addition to state-of-the-art cooling and monitoring systems.
Along with building components, gardens and other landscaping elements surrounding the Modern Wing add over 20,000 square feet of green space to the museum campus. These beautiful outdoor settings provide an area for visitors to reflect and relax, while creating a green link to Millennium and Grant parks.
The Art Institute thanks the Illinois Clean Energy Community Foundation and Exelon Corporation: Green Energy Partners of the Modern Wing.
---
View of the Modern Wing's "flying carpet." Photo credit: Charles G. Young, Interactive Design Architects.