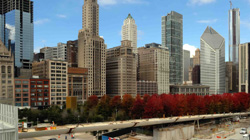 The Modern Wing includes several public spaces that are accessible and free of charge to all visitors as an extension of Chicago's Millennium Park.
Nichols Bridgeway
A visit to the Modern Wing can begin in Millennium Park at the Nichols Bridgeway, a 625-foot pedestrian bridge that was designed by Pritzker Prize–winning Modern Wing architect Renzo Piano. Immediately accessible from the southwest corner of Millennium Park's Pritzker Great Lawn, the bridgeway rises over the Lurie Gardens and crosses Monroe Street. It gently arches to a height of 60 feet, offering breathtaking views of the park, skyline, and lake, as it approaches the Modern Wing's third-floor entrance. Visitors can also gain access at the Millennium Park entrance on Monroe Street or through the historic building.
The Bluhm Family Terrace
The Bluhm Family Terrace comprises approximately 3,400 square feet of outdoor space, affording a spectacular confluence of architecture with views of Millennium Park and the surrounding city. The Department of Contemporary Art will present rotating installations on the terrace. This magnificent space also serves as a meeting place for museum guests and is connected to the rest of the Modern Wing via an ethereal glass box containing escalators that transport visitors to the "main street" of the Modern Wing, Griffin Court.
Griffin Court
The Modern Wing is composed of two three-story pavilions, one on each side of the two-story Griffin Court. This dramatic, skylit passageway serves as the entrance to the Modern Wing and is central to the design of the new building.
Griffin Court creates a new north/south axis of circulation through the Art Institute, an axis that Piano refers to as the building's "main street." Griffin Court will open a direct path from the Modern Wing's new Millennium Park entrance to the Rice Building and special exhibitions in Regenstein Hall.
Visitors can purchase tickets, check coats and bags, pick up an audio guide or self-guide, and visit Modern Shop or Ryan Education Center all from Griffin Court.
---
Nichols Bridgeway under Construction. Photo credit: Charles G. Young, Interactive Design Architects.
Griffin Court. Photography, James Iska.