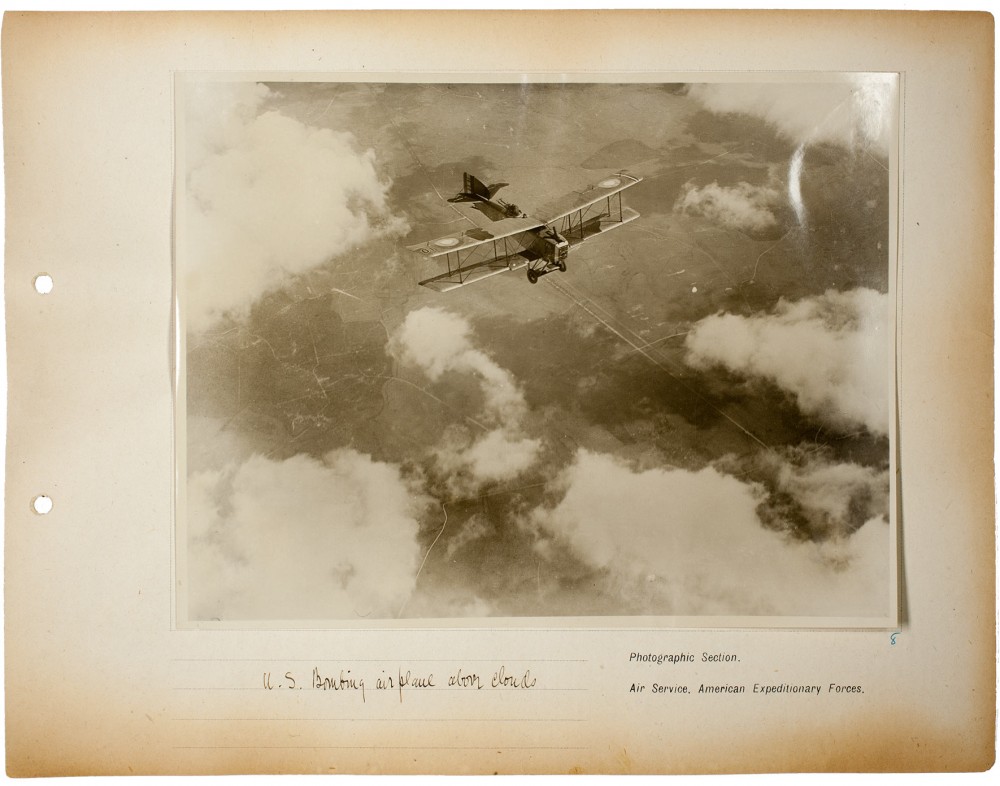 Gelatin silver print
Gift of William Kistler, 1977.684
This French-made Brequet 14 airplane, which appears on the following album page as well as in the photograph below, was flown by American forces. This model is a bomber, as can be seen by the bomb racks on the leading edge of the lower wings, but these planes were also used for photographic reconnaissance. With the pilot in front, the observer would sit in the second seat, with the camera, typically a 50-cm long De Maria, mounted between them. The observer was in charge of taking photographs and making real-time notes on ground movements. In addition, he was the rear defense, manning a set of rear-ward pointing machine guns and scanning the clouds for approaching enemy aircraft.
The Brequet 14 was designed to carry the De Maria cameras used by the Allies, but there was no standard way to mount the cameras inside the planes, and a variety of ingenious combinations of springs, straps, and foam rubber was used to minimize the effect of the vibration of the engine on the clarity of the photographs. This photograph shows tennis balls being used as shock absorbers.
Inscribed recto, on album page, lower left, in black/brown ink: "U.S. Bombing airplane above clouds"; printed recto, on album page, lower right, in black ink: "Photographic Section. / Air Service. American Expeditionary Forces."; inscribed recto, on album page, lower right, in blue ink "8"; unmarked verso