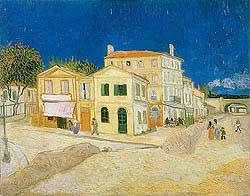 ARLES AND THE YELLOW HOUSE

In February 1888, van Gogh arrived in the town of Arles in southern France, where he dreamed of founding a "Studio of the South." A Greek colony in the sixth-century B.C., Arles later became a major urban center within the ancient Roman Empire, boasting many important monuments—an amphitheater (the largest in France), a theater, a circus, and public baths—before suffering centuries of decline. Although Arles enjoyed a second flourishing in the 12th through 15th centuries, by the time van Gogh arrived, it had reverted to a sleepy provincial town of about 30,000 inhabitants.

Van Gogh rented a small yellow house situated on the Place Lamartine. He intended that it would become the center of his Studio of the South. In a letter to his sister, he described the cheerful building as "a little yellow house with a green door and green blinds, whitewashed inside—on the white walls very brightly colored Japanese prints, red tiles on the floor—the house in the full sunlight—and over it an intensely blue sky…."

Soon after renting the yellow house in early May, he began to dream that Gauguin would join him as the head of the artists' colony. In anticipation of Gauguin's arrival, van Gogh launched an ambitious campaign to furnish and decorate his studio, producing some of his best-loved paintings. In August he reported that he was working on "half a dozen pictures of 'Sunflowers,' a decoration in which the raw or broken chrome yellows will blaze forth on various backgrounds," ranging from "the palest malachite green to royal blue." In October he completed another decorative scheme intended for Gauguin's bedroom. The series, which he called "the Poet's Garden," featured the park across the street.

By the time Gauguin arrived on October 23, 1888, he found the yellow house ablaze with van Gogh's canvases, and the Studio of the South was officially underway.


Van Gogh and Gauguin: The Studio of the South has been organized by The Art Institute of Chicago and the Van Gogh Museum, Amsterdam. This exhibition is supported by an indemnity from the Federal Council on the Arts and the Humanities.

Van Gogh and Gauguin: The Studio of the South is part of the "Ameritech Exhibition Series" made possible through a grant from the Ameritech Foundation.