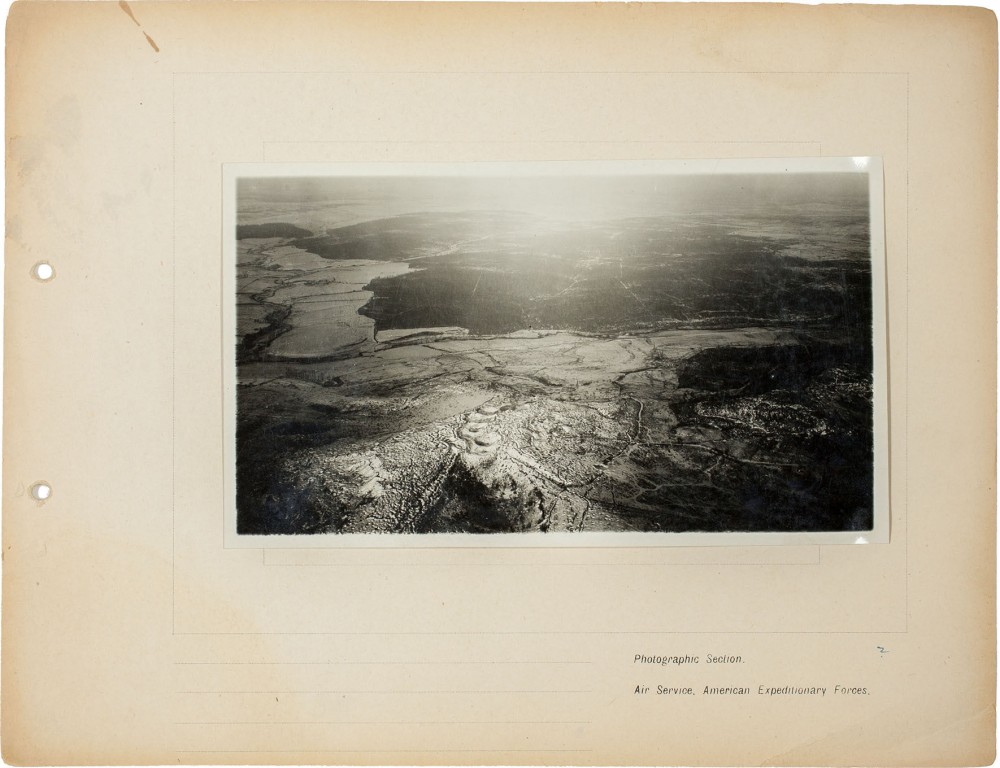 Gelatin silver print
Gift of William Kistler, 1977.678
Throughout his career, Steichen remained his own greatest promoter. His war years were no exception, as he took great pride in the technical and leadership skills he brought as an experienced photographer. In a report written at the end of the war, referring to himself in the third person, he boastfully wrote:
Captain, now Major, Steichen during those critical days was handling the work of two or more men. . . . [He] covered all the zone of activities at the front, organizing, advising, and coordinating matters of policy, technique, supply, and administration. Fortunately for the Photographic Section this officer was a photographer of twenty years experience and international reputation before the war and had been attached to the Section from its conception in Washington in August 1917.[1]
Printed recto, on album page, lower right, in black ink: "Photographic Section. / Air Service. American Expeditionary Forces."; inscribed recto, on album page, lower right, in blue ink: "2"; inscribed verso, on album page, center, sideways, in graphite: "Vauquois"

[1] Edward Steichen, "History of the Headquarters Office, Photographic Section, Air Service, U.S.A.," in Gorrell's History of the American Expeditionary Forces Air Service, 1917–1919, series G, vol. 1, compiled by Colonel Edgar S. Gorrell (War Department, American Expeditionary Forces, 1918–19, reprinted by National Archives and Record Service, 1974), p. 3–4.