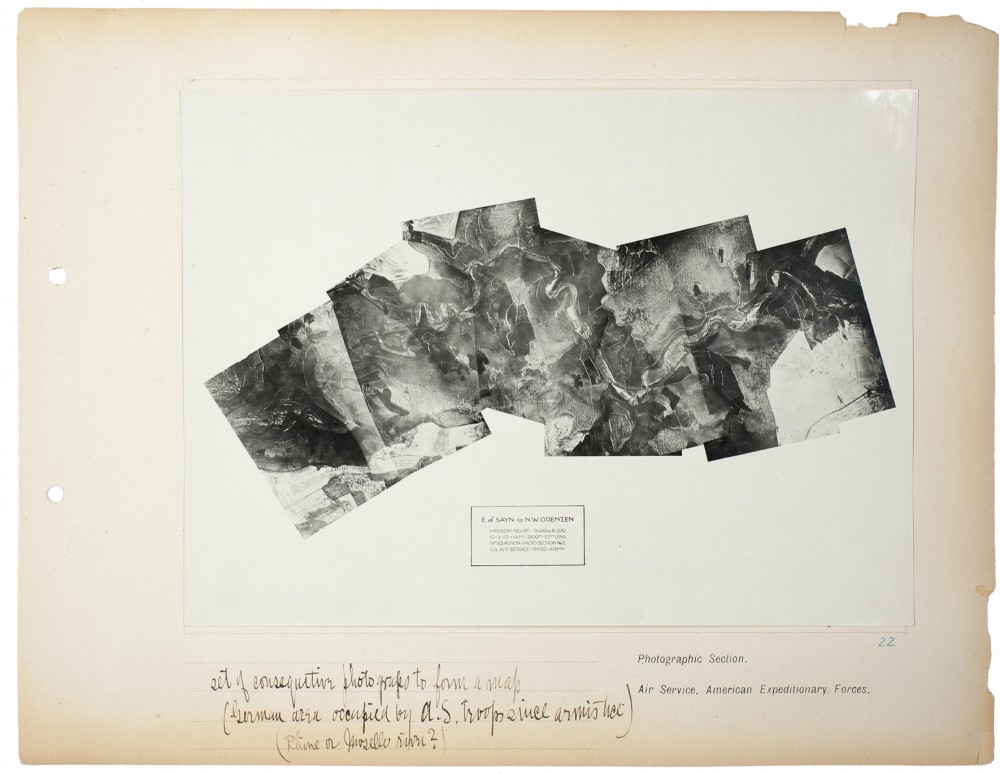 Gelatin silver print
Gift of William Kistler, 1977.698
Though Steichen's annotation suggests this is the Rhine or Moselle River, this is in fact the Brexbach, a tributary of the Rhine. Mosaic photographs, as these were known, were created by pasting together consecutive individual frames and then rephotographing them to create a single image. These technically demanding images provided comprehensive views of territories and were an invaluable tool for the AEF. They also required the kind of extensive planning and attention to detail in which Steichen took great pride: the particular camera to be used, focal length of the lens, and plate size all had to be preselected based on the plane's flight path, speed, altitude, and system for defense.
This diagram shows the ideal way to shoot the images needed for a mosaic photograph. To form an accurate map, the shutter needed to be released at regular intervals while maintaining a consistent altitude and angle. The need to capture important elements of the landscape, not to mention evade enemy fire, often resulted in a series of photographs that formed a more organic pattern.

After a successful mission, a draftsman was responsible for carefully aligning consecutive images taken in the field. The resulting assemblage was then rephotographed, interpreted, and distributed to intelligence officers throughout the front. Technicians can be seen piecing together mosaic photographs in the foreground of this image.

Printed recto, lower center, below image, in black ink: "E. of SAYN to N.W. GRENZEN / MISSION NO. 14 . . B199 to B209 / 10-2-19 . 11A.M. . 3500M . 52CM LENS / 91st SQUADRON .. PHOTO SECTION No. 2 / U.S. AIR SERVICE .. THIRD ARMY"; inscribed recto, on album page, lower left, in black/brown ink: "set of consequetive photographs to form map / (German area occupied by U. S. Troops since armistice) / (Rhine or Moselle river ?)"; printed recto, on album page, lower right, in black ink: "Photographic Section. / Air Service. American Expeditionary Forces."; inscribed recto, on album page, lower right, in blue ink: "22"; unmarked verso