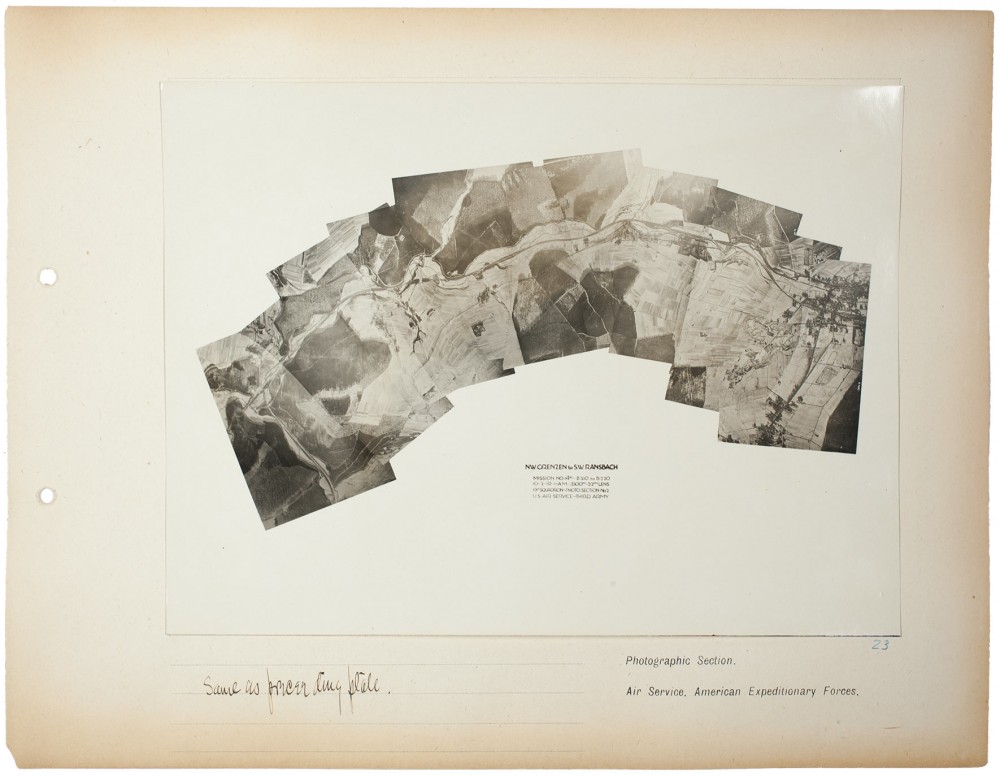 Gelatin silver print
Gift of William Kistler, 1977.699
The making of mosaic photographs was greatly helped by technical innovation. The French De Ram (named after a lieutenant in the French air force) was an automatic camera that could be set to make exposures at any given interval and had the capacity for 50 glass-plate negatives. This game-changing development in aerial photography facilitated the kind of precise, standardized picture making that Steichen was after (he famously joked that anyone turning in a fuzzy photograph would be court-martialed). They also allowed the observer, seated behind the pilot, to focus his attention on the ground and spotting enemy aircraft instead of manually changing and exposing plates.
The De Rams were specially built for the American Photographic Service by a shop in Paris late in the war. Here they are seen amid various other cameras used by the AEF Photographic Service. The De Rams are the two larger, dark gray cameras, their boxy tops containing the automated, spring-powered plate-changing mechanism. The longer, light-gray cameras on the right and left are De Marias, 50-cm focal length French cameras. These were the cameras most often available to the U.S. Air Service. The smaller cameras are French-made handheld cameras, used for taking photos at oblique angles.[1]

Printed recto, lower center, below image, in black ink: "N.W. GRENZEN to S.W. RANSBACH / MISSION NO. 14(B) .. B210 to B220 / 10-2-19 . 11 A.M. . 3500M . 52CM LENS / 91st SQUADRON .. PHOTO SECTION No. 2 / U.S. AIR SERVICE .. THIRD ARMY"; inscribed recto, on album page, lower left, in black/brown ink: "Same as preceding plate."; printed recto, on album page, lower right, in black ink: "Photographic Section. / Air Service. American Expeditionary Forces."; inscribed recto, on album page, lower right, in blue ink: "23"; unmarked verso

[1] Edward Steichen, "American Aerial Photography at the Front," The Camera: The Magazine for Photographers (July 1919), pp. 359–66.