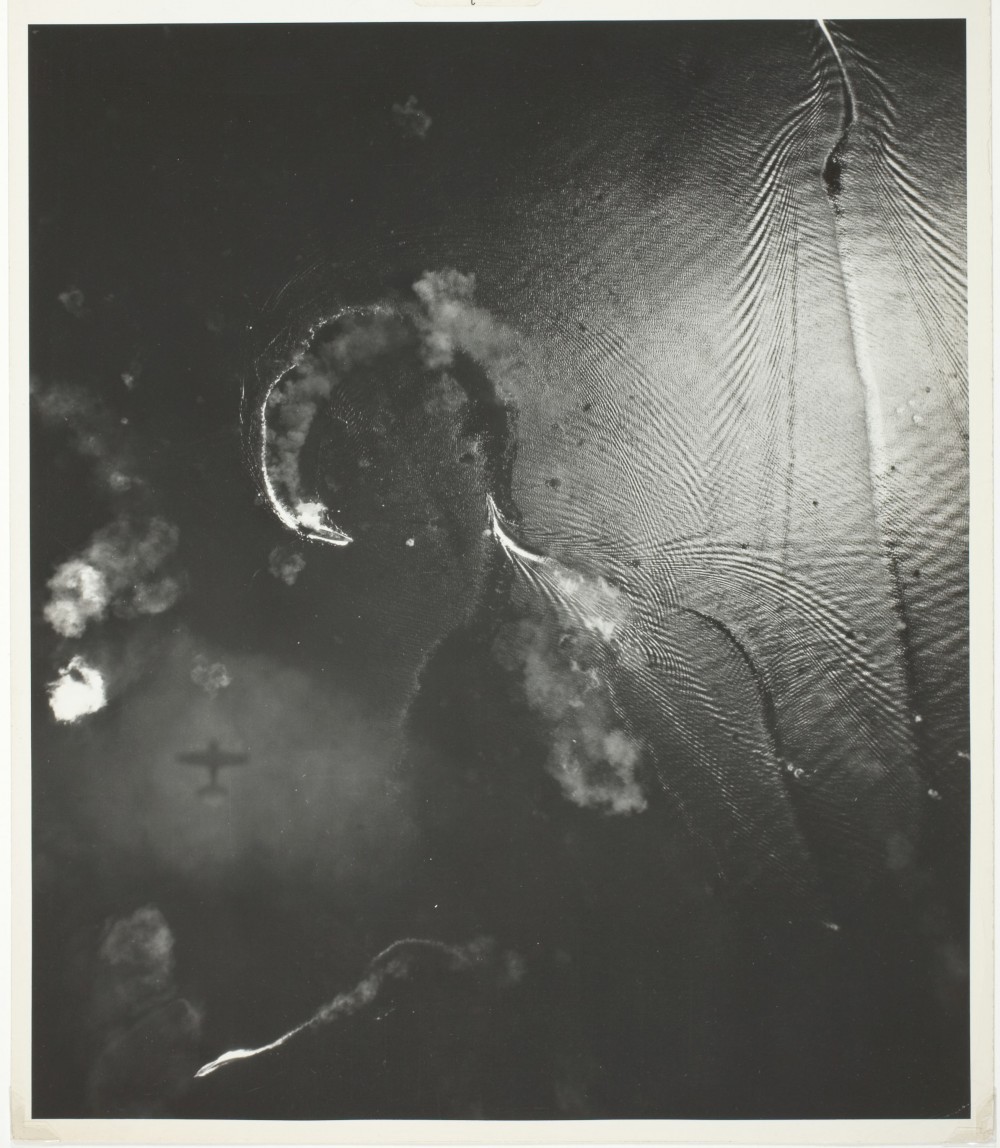 An unlikely recruit at the age of 62, Steichen once again felt called to serve his country when the U.S. entered World War II in 1941. The Army was reluctant to have him, but based on his accomplishments in the AEF during World War I and his professional reputation, he convinced the Navy to appoint him head of a photographic unit.
Steichen and his men were officially tasked with creating images of Naval aviation for promotion and recruiting, and the resulting photographs are some of the most iconic images of World War II. During this time Steichen also curated two large-scale photomural exhibits at the Museum of Modern Art: Road to Victory (1942) and Power in the Pacific (1945). The shows were unabashedly populist, meant to lift the spirits of a country at war.
But Steichen also told his men "to focus on the enlisted man, as he would be the one that would win the war."[1] Perhaps this humanist approach was inspired by the photographer's experience of World War I, in which he realized that his preoccupation with the technical and logistical aspects of photography had obscured the horrors of trench warfare:
I had never been conscious of anything but the job we had to do . . . but the photographs we made provided information that, conveyed to our artillery, enabled them to destroy their targets and kill.[2]
The products of Steichen's World War I service with the AEF are much less well-known than the stirring World War II images. But the earlier images represent a transition in Steichen's career, when he turned towards the technical demands of "sharp, clear pictures."
Figure 1. Artist unknown (U.S. Navy, Steichen group) (American, active 1939–1945). Second Battle of Philippines, 1944/45. Gelatin silver print; 31.7 x 27.2 cm. Henry Foundation Fund, 1996.103.
[1] Wayne Miller, "An Eye on the World: Reviewing a Lifetime in Photography," 2003, oral history transcript, University of California, Berkeley.
[2] Edward Steichen, A Life in Photography (Doubleday, 1963), chap. 5, n.p.