"Maybe I'm not an artist or artistically inclined, but touching the piece wakes something up inside of you."
The Art Institute of Chicago serves a broad spectrum of diverse and intersecting audiences in an array of approaches and opportunities for engagement. Technologies such as 3D printing open up new ways for visitors with disabilities to experience and engage with the collection. Repeat visitors like Rose say:
"I'm so used to going to the AIC (Art Institute of Chicago) and everything is glassed up. Hands-on opens up your other senses and makes your heart putter, even though its not the actual piece. Knowing that someone can duplicate this piece is thrilling."
She is speaking of a new form of "hands-on" engagement that museum educators like Lucas Livingston are beginning to implement through the use of 3D printing. Lucas invites audiences to take a journey with works of art framing them in their original context and putting them in the hands of museum visitors—in particular museum visitors with low-vision and Alzheimer's.
With a profound dedication for inclusive lifelong learning, Lucas has expanded access to the museum for audiences with disabilities and has crafted unique experiences for visitors with low vision and adults living with Alzheimer's disease. Working with audiences with disabilities presents a host of challenges that foster new ways of thinking about the gallery experience and the collection. Ultimately, the goals of these tours remain the same for all audiences: to participate in creative discussion and walk away with an enjoyable, positive, and lasting experience.
"Touching isn't something we are able to do when we are here. Having a replica is our way of getting through the glass and 'seeing' an object."
This year, through the support of the IMLS Sparks! Ignition grant, a great opportunity arose in the Museum3D project to augment visitor participation through the use of 3D printing. Lucas and the Museum3D team set to select works of art that would be scanned, 3D-modelled, and printed for participants to hold and touch. Integral to the success of this project was the relationship between the museum and the School of the Art Institute of Chicago, through which the 3D scanning and modeling talents of SAIC-student and Museum3D spring Co-Op intern Mark Kamish were made available. Furthermore, debt is owed to the curatorial departments of Asian Art, Ancient Art, and African Art and Indian Art of the Americas, who not only permitted, but enthusiastically supported the efforts to temporarily de-install, scan, and reproduce the selected objects.
Critical to the project's objective and tour's theme were the criteria that the original works of art selected for 3D reproduction be reproduced at a 1-to-1 physical scale and that they were originally created with the intent of being touched or manipulated in some manner. The rationale behind this was that the aesthetics of touch may have been a factor in an artist's execution of the work of art. Perhaps this aesthetic might translate to a modern audience, given the opportunity to touch the work of art—if not an original, than at least the scale replica. Beyond the satisfying sense of touch for the participants, whether with or without low vision or Alzheimer's, the freedom to handle the replicas helped to contextualize the works of art as useful object that formerly served a purpose.
"When something is described, you're taking someone else's impression/perspective. But if you give me the delicious pastry, then I can make my own decision about what it is."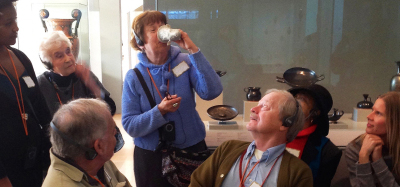 Susan holds an ancient Greek drinking cup to her mouth with an excited grin. Steven lifts a pre-Columbian, iguana-shaped whistle to his lips, poised to blow. Martha caresses an early Japanese Jomon period figurine noting where the former owner deliberately broke it in half. Perhaps even in some way the 21st century visitor to the Art Institute is transported to the time, place, and culture of the people who owned, used, or made these objects.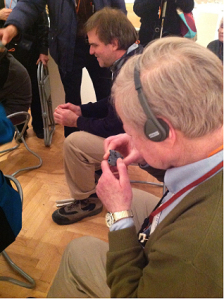 "The object becomes a part of you, becomes a friend, much more intimate."
"Touching is how we know everything, even for sighted people."