We are proud to introduce Noah Spencer Coleman who comes to Museum3D as our second SAIC intern for the summer. Pursuing an MFA degree in the Art & Technology Studies program at the School of the Art Institute, Noah's unique background in sculpture and interest in 3D printing and education technology has easily led him to become a valuable team member. We've asked him to share his internship experience with us.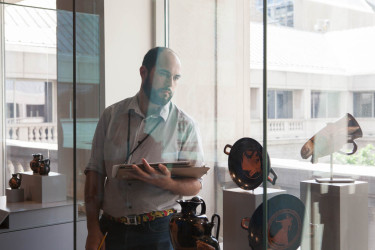 At the beginning of June 2014, I was hired as an intern with the Art Institute of Chicago's Digital Experience and Access team to participate in the IMLS Sparks! Ignition grant on 3D Printing.  I supported two of the grant's educational programs: the
Tween Camp
program and the
Cutting Edge: Introduction to 3D printing
educator workshop.  This opportunity was a rigorous, fun, and eye-opening experience for me.  I was excited to work with the museum staff, teaching artists, and other interns to execute an excellent program for tweens and for art educators.
The Tween Camp was the first of the grant programs I worked on.  A few weeks before Tween Camp began, I was able to be involved in the planning meetings leading up to the start of camp.  Despite my being an intern, I felt like my comments and opinions shared in the discussion were treated with respect and openness.  I felt like a valued and needed member of the team.
The week of Tween Camp was both exhausting and rewarding.  There were twelve participants, ages 9-12 in the class.  During the class, I helped scan the kids' torsos using an Xbox Kinect.  We later printed these scans out so the kids could have a little "bust" of themselves.  We introduced the kids to the 3D printer, a MakerBot 2, and explained how 3D printing works.  The theme of the class was "remixes and mash-ups" through inspiration from the Art Institute's collection. We spent a lot of time in the galleries looking at composite creatures from many cultures and artistic time periods such as Surrealism taking time to talk about the concept of mixing two seemingly unrelated ideas.  Together with Ryan Laviere, another intern from SAIC, helped mentor the tweens as they learned Tinkercad, a free 3D modeling program. We helped prep all the models for printing, and made sure the printer kept humming along.  It was really great to see the open-mindedness of the kids and their creativity in mashing up images and ideas from all over the place.
The second program I worked with–the Cutting Edge educator workshop–was also a great learning experience (and not just because it was full of educators).  I spent most of my time during the workshop helping the participants navigate SketchUp software and assisting in object modeling.  In addition, I took the participants' finished models, prepped them for printing, and printed them.  I learned a lot about using SketchUp with 3D printing (in retrospect, I wouldn't necessarily recommend it…), but also learned how to teach 3D modeling and printing to people with different technical and artistic backgrounds.  One of the most rewarding things about this workshop was discussing the role of technology in art-making, specifically the role of 3D printing.  It was interesting to hear educators debating whether their 3D printed models could be considered "art." The responses ranged from those who did not to those—including myself—who see 3D printing as a fully expressive artistic medium."
In addition to helping with the Tween and Educator workshops, I also helped
Carolina Kaufman
, the museums Education Technology Manager, run the artist in residence program outreach every week.  We demoed 3D printing and educated museum patrons about the process and prospects of 3D printing.  We also demonstrated how to use Tinkercad and got kids and their parents excited about 3D production through their own interests!  It was a great opportunity to discuss 3D printing with people who aren't familiar with it, or who have only heard about it in news blurbs or the media.  I think people were surprised how simple 3D printing can be, as well as how easy it was to get started modeling with Tinkercad.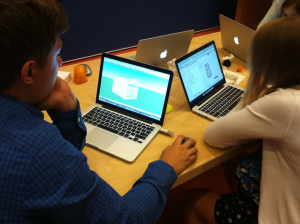 Overall, my experience as an intern has been educational and eye-opening.  I have learned about many ways people can use and implement 3D printing, and I have developed a desire to teach others and share my knowledge and enthusiasm for this medium.
Published on