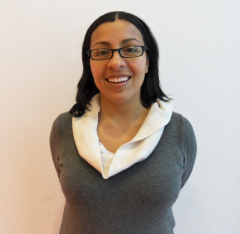 My Job and My Interests:
Combining my work experiences and interests in visual art, education and multi-media technology, you will find me working on various digital projects and initiatives across the museum to engage diverse audiences in new and exciting ways. I am truly happy to do something where my passions and career comes together harmoniously.
Fun Facts about Me:
I agree much with Sigmund Freud that "Time spent with Cats is never wasted". Integral are they to my life and well-being.
My favorite medium is water color pencils, great for my illustrated travel journals and children's illustrations.
I can recite the entire movie of the Princess Bride, "Inconcievable!"
An Artwork that Inspires:
Any artwork made by Caravaggio, he brings me to dramatic illumination of himself, the human experience and psyche.
Self-Portrait Pose Like a Sculpture, 3D Print
Inspired by Indian Art and the Diwali Festival