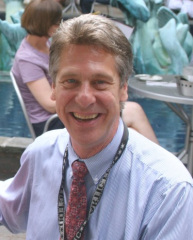 My Job and My Interests:
Besides administrative work for museum education, I engage adult audiences by giving lectures and gallery talks about works throughout the museum. I work closely with Community Associates, a group of almost 3,000 museum members who organize close to 200 programs annually that take place in the suburbs and the city. I'm especially interested in educational technology and helped develop content for some of the early online programs about the permanent collection and exhibitions, introduced when the museum's website first launched. I've enjoyed experimenting with mobile technology & social media in classes I've taught at Columbia College through the years, linking the museum and college audiences.
Fun Facts about Me:
I love horror & sci fi movies and TV, like Revolution, Supernatural, Vampire Diaries, & True Blood.
I worked as a waiter one summer at the Inn of the Happy Valley (L'auberge de la Vallée Heureuse) in a small town in France during my college years.
I was in my car on Lake Shore Drive before the blizzard of 2011–exited just minutes before the historic shutdown (whew!).
An Artwork that Inspires Me:
Ivan Albright's horrific "Picture of Dorian Gray," used in the 1945 movie. Art, horror and film–what could be better?