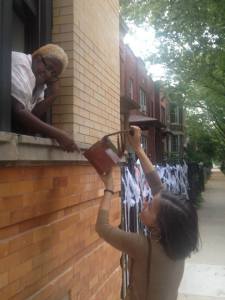 My Job and My Interests:
I am an artist and educator. I design programs to show teachers how to look at and talk about art, and how to integrate art into all areas of the curriculum. I trained as a print maker, which led me to sculpture, which led me to social practice. I'm interested in how people come to discover and define creativity.
Fun Facts about Me:
Had a brief stint as a vocalist in an Andean band.
Learned to tan a hide following online instructions.
My upside-down pear cake once got me a marriage proposal.
An Artwork that Inspires Me:
Felix Gonzalez Torres's "Untitled" (Perfect Lovers). Felix transformed these sterile, factory-made clocks into poetry by using his mind alone (and a couple of nails).