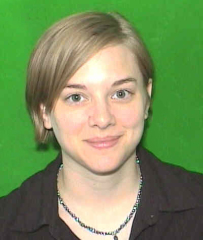 My Job and My Interests:
For the past 5 years I have managed the museum's programs for teens, including after-school partnerships, internships, art-making workshops, and the Teen Council. I'm passionate about helping youth connect meaningfully with and in the museum. The most exciting part of my job is working with teens to ensure that their ideas and interests contribute to shaping the future of museum experiences for all visitors.
Fun Facts about Me:
Has collected a massive amount of lobster-themed paraphernalia
Spends days off perfecting her granola recipe
An Artwork that Inspires Me:
No matter how many times I experience it, I'm always struck by the powerful feelings of surprise, joy, and melancholy elicited by engaging with Felix Gonzalez-Torres's Untitled (Portrait of Ross in L.A.).