1973–74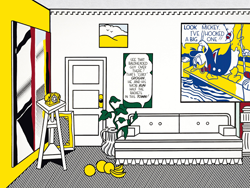 The Artist's Studios mark the beginning of Lichtenstein's durable habit of self-quotation. He incorporated into these scenes iconic early works like Look Mickey (1961), rendered close to actual scale, as well as lesser-known works and studies, which evolved from small works on paper into fantasy versions of large objects. The complicated ordering of self-references places the series squarely in the long-standing European genre of studio interiors, an endeavor that Lichtenstein playfully skewered.
The series was inspired by Henri Matisse's paintings Red Studio and Pink Studio, both from 1911. Matisse's influence extends to the level of composition in the Artist's Studios. The works contain specific paraphrases of Matisse's imagery as well, from the fruit and foliage in his still lifes to his famed dancers, here ironically reauthored.
Lichtenstein created a purely imaginary realm in which to inventory his imagery. For example, Artist's Studio "Look Mickey" (1973) references individual works (Look Mickey, -R-R-R-R-Ring!!, Couch, and Drawing for Landscape) and series (Entablatures, Mirrors, and Stretcher Frames) that span more than a decade. Lichtenstein's self-quotations also include images that prefigure future works. The partial easel painting of the pipe smoker in Artist's Studio with Model (1974), for example, would resurface 20 years later.
This installation marks the first time the four life-size Artist's Studios canvases have been reunited since Roy Lichtenstein: The Artist's Studio, a 1974 show held at Leo Castelli in New York.
---
Roy Lichtenstein. Artist's Studio "Look Mickey", 1973. © Estate of Roy Lichtenstein. Collection Walker Art Center, Minneapolis. Gift of Judy and Kenneth Dayton and the T.B. Walker Foundation, 1981.