1964–71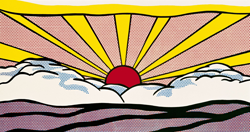 Landscape was one of the first topics that Lichtenstein turned to following his comic-inspired Pop breakthrough, and one to which he returned with some regularity. He was drawn to clichéd or dated subjects, and the genre of landscape seemed appealingly remote from avant-garde concerns. While their subject matter seems unlike Lichtenstein's early Pop comic paintings, his painted landscapes were in fact appropriated from the backgrounds of cartoon scenes. Lichtenstein used the same durable halftone dots but here distilled the compositions down to the most basic pictorial elements. The results progress from more overtly representational works like Sunrise (1965) to almost completely abstract works like the blue Seascape (1964). The black outlines present in Sunrise disappear, leaving bands of solid color and massed groupings of dots to define the pictorial space—ocean, mountains, sky.
In no other genre was Lichtenstein as experimental with materials and media in his quest to create illusionistic optical effects. Seashore (1964), painted in reverse on the back of multiple, layered sheets of Plexiglas, projects a sense of depth. Seascape (1965) and Pink Seascape (1965) utilize the reflective surface of Rowlux, a lenticular plastic that conveys the impression of movement, even liquidity, when viewed at different angles. Perforated Seascape #1 (Blue) (1965), a work of enamel on steel, further heightens the sense of movement through the moiré pattern created by its layered construction. In these scenic works, Lichtenstein conveyed the indeterminate essence of light and water, or stylized them through exaggerated curves or straight lines, creating the impression of a landscape in a remarkably economical manner.
---
Roy Lichtenstein. Sunrise, 1965. © Estate of Roy Lichtenstein. Private Collection.