1966–71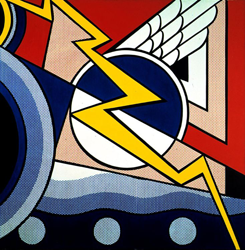 In the summer of 1966, while still working on his Brushstrokes, Lichtenstein designed a poster for New York City's Lincoln Center, taking as his subject the architecture and design of the 1920s–30s. This initiated a series that parodied the style of Art Deco, which Lichtenstein ironically described as "Cubism for the Home." Like the Landscapes paintings that preceded them, the artist's Modern works are among the relatively rare pieces in his oeuvre without an anchoring reference to a specific artist or object. They are inventions based on one of his favored notions: impure style. Here he humorously stylized an already-stylized style.
In his Modern paintings and sculptures, Lichtenstein isolated and re-created decorative motifs of the era such as brass ornamentation and geometric wallpaper, which could typically be found in the stepped-back skyscrapers, theater marquees, and plush interiors of venues like Radio City Music Hall—as delightfully conjured in the witty Modern Sculpture with Velvet Rope (1968). The concert hall reference is also evocative of Lichtenstein's interest in music; the improvisational rhythms of jazz can be felt in the freedom of these original compositions.
While attempting to summon the style of the period, Lichtenstein's foremost aims were, as always, form and composition. The Modern series strikes an extraordinary balance between verticals and diagonals, curves and straight edges, dynamic and static forms. In Modern Painting with Bolt (1967), the lightning strike both divides and unifies, becoming an Art Deco equivalent of a comic-book explosion. Works like Modern Painting Triptych (1967) explore a modular format of panels in various arrangements with the same image repeated sequentially on all panels, begging the semantic issue of whether the works represent one painting or multiple paintings.
---
Roy Lichtenstein. Modern Painting with Bolt, 1967. © Estate of Roy Lichtenstein. The Museum of Modern Art, New York. The Sidney and Harriet Janis Collection, 1967.