1996–97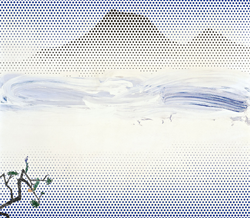 Lichtenstein returned to the landscape genre in 1995, creating a powerful series of over 20 works that appropriate the motifs of the classical landscape painting of the Song dynasty (960–1279). In these highly stylized scenes, he recognized a painterly language distilled into codes and rules, and then translated this into his own related idiom. Lichtenstein had been exposed to Chinese art as a student at Ohio State University in the late 1940s, if not earlier. However, monotype and pastel landscapes by Edgar Degas, which the artist saw at the Metropolitan Museum of Art, New York, in 1994, were the immediate spark for this series.
Much like the reproductions of Song landscapes the artist then consulted, these works project the illusion of a transcendent realm. The vastness of nature in both Song works and his renditions is heightened by the inclusion of tiny details such as a lone tree, boat, or philosopher in repose. Lichtenstein's virtuosity is especially impressive, as he used a technical approach radically different from traditional Chinese brushwork. This was a consequence of both dot size—Treetops through the Fog (1996), for example, utilizes at least 15 different sizes—and the complex spacing, which accounts for the extraordinary suggestion of atmosphere.
Landscape in Fog (1996), an exceptional work from the series, renders the eponymous fog with bold brushstrokes that seem to violate the austerity and detachment conveyed by the matrix of graduated dots. In a traditional Chinese view, such marks provide calligraphic insight into the character and persona of the artist. Unlike Lichtenstein's Brushstrokes of the 1960s, the spontaneous, painterly brushstrokes in Landscape in Fog—the type he so often parodied—offer an expressive contrast to the work's pretense of mechanical anonymity.
---
Roy Lichtenstein. Landscape in Fog, 1996. © Estate of Roy Lichtenstein. Private Collection.