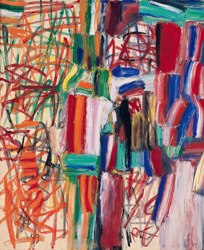 In the late 1950s, Lichtenstein made an abrupt change in his painterly style. Earlier works owe a heavy debt to Cubism and were executed in a faux-naive realist style. By 1959 newly energetic brushwork, specifically in the mode of Abstract Expressionism, then the dominant style of painting, became the focus of his explorations. For two years, Lichtenstein struggled with these abstractions, attempting to find his artistic voice. Unlike the bravura marks of Abstract Expressionists like Willem de Kooning, the brushstrokes in the three early paintings in this room appear somewhat tentative, reading almost as separate passages, never fully integrated with the whole. The idea of spontaneous release and raw, emotional disclosure, the basic tenets of Abstract Expressionism, were antithetical to Lichtenstein's personality. Perhaps this is why he felt these works never fully succeeded; he abandoned them by the end of 1960. Later, using his signature Pop Art style, Lichtenstein returned to the motif of the brushstroke, isolated or in groupings, but reimagined as facsimile.
In the mid-1990s, the brushstroke reemerged in a startling new form. In the late Brushstrokes, the marks seem intended to obscure. Lichtenstein described them as obliterating brushstrokes, an idea that came to him in a dream. Indeed, in Brushstroke with Still Life IV (1996), the background geometry is partially eclipsed, while in Brushstroke Abstraction I (1996), the brushstrokes appear as graffiti, in direct conflict with the dots and diagonals that were the basic building blocks of his Pop vocabulary. Delineating the beginning and end points of Lichtenstein's career, the works in this gallery raise the question of autographic mark-making—a question that Lichtenstein answered, throughout the preponderance of his career, with his signature, highly controlled application of paint—a technique necessary to achieve the flat, illustrational qualities of Pop Art.
---
Roy Lichtenstein. Untitled, 1959. © Estate of Roy Lichtenstein. Private Collection.