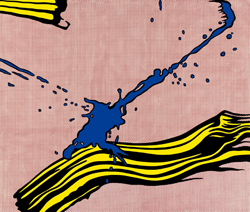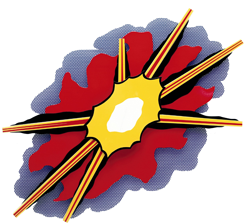 When the Brushstrokes paintings were first exhibited, they were regarded as Lichtenstein's sly nod to Abstract Expressionism—specifically, the brushstrokes and spatters of Willem de Kooning and Jackson Pollock. By rendering these spontaneous, autographic marks in a clichéd commercial art style, Lichtenstein questioned the authority of these purportedly inimitable gestures. He explained, "Brushstrokes in a painting convey a sense of grand gesture; but in my hands, the brushstroke becomes a depiction of a grand gesture."
The initial source for the series was derived from the comic panel "The Painting" in a 1964 issue of Strange Suspense Stories. The first work in the series, Brushstrokes (1965), duplicates a hand holding a paintbrush from the cartoon panel, though it is now reduced, cropped, and stylized by dots and flat color. The flattened drips, as well as the fine trailing outlines in Little Big Painting (1965), add a clear sense of motion to these works' otherwise cool reserve.
As the drips and spatters in the Brushstrokes depict movement and direction, the Explosions similarly capture a critical moment in time. Building on their appearance as details of combat imagery from Lichtenstein's war scenes, the Explosions are two- and three-dimensional translations of a well-known graphic convention, immediately recognizable as the effect of a blast. The artist distilled the split-second blend of light, heat, noise, and matter into a striking visual sign. The Explosions align themselves with the ideas of energy, action, and release associated with the brushstrokes of Abstract Expressionism.
---
Roy Lichtenstein. Brushstroke with Spatter, 1966. © Estate of Roy Lichtenstein. The Art Institute of Chicago, Barbara Neff Smith and Solomon Byron Smith Purchase Fund.
Roy Lichtenstein. Wall Explosion II, 1965. © Estate of Roy Lichtenstein. Tate: Purchased 1980.