1961–66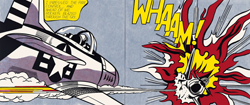 In the early 1960s, Lichtenstein began the series of paintings for which he remains best known: large-scale appropriations of distressed young women and daring young men featured in war and romance comics. Of course, love and battle are enduring art-historical subjects. Lichtenstein was particularly fascinated by the contrast between the emotional intensity of the stories found in comics and the highly formulaic style used to illustrate them. He hoped to heighten this dichotomy in his own paintings, explaining, "I was interested in using highly charged material, like Men at War and Love comics, in a very removed, technical, almost engineering drawing style."
In these works, Lichtenstein developed his version of halftone dots to create intensely stylized paintings that looked even more like comic images than the comics themselves. In the artist's interpretations, the sentimentality of young romance, as seen in We Rose up Slowly (1964), and the hypermasculine violence of war in works like Whaam! (1963) are exaggerated in ways that draw attention to the mass media's stereotypical representations of gender. Male protagonists—featured in dramatic close-ups in Torpedo . . . LOS! (1963) and Bratatat! (1962) (and presumably present in other fight scenes)—serve as foils for his equally clichéd depictions of vulnerable women during moments of action and high tension.
Lichtenstein's earliest critics—generally hostile—took issue with his use of such banal imagery, not only because it brought the commonplace into the realm of high art, but also because they claimed he merely "copied" his found material. Lichtenstein always reworked his source images, eliminating extraneous details, brightening colors, heightening contrasts, balancing positive and negative spaces, editing text, and, in general, emphasizing the pictorial clichés and graphic codes of commercially printed imagery, itself already a sophisticated pictorial language. His overriding goal was to achieve unified, harmonious compositions.
---
Roy Lichtenstein. Whaam!, 1963. © Estate of Roy Lichtenstein. Tate: Purchased 1966. Photo © Tate, 2011.