Homemade Ginger Beer Spiked with Guest's Choice of American Craft Spirits
sparkling water
1½ ounces spirit of choice
ginger syrup (recipe follows)
lemon wedge
For ginger syrup (makes 3½ cups):
½ pound fresh ginger root, cleaned and sliced thin
½ teaspoon cloves
½ teaspoon allspice
3 star anise
2 cinnamon sticks
1 split vanilla bean
1½ cups demerara or turbinado sugar
½ cups cane sugar
2 cups water
Fill a highball glass with ice. Fill two-thirds full with cold sparkling water. Add 1 ½ ounces spirit of choice. Top with homemade ginger syrup (or purchased). Stir. Garnish with a lemon wedge. Finish with a natural, biodegradable paper straw (optional).
American craft spirit recommendations:
Boyd & Blair Single Pot Still Potato Vodka, Pennsylvania Northshore Gin, Lake Bluff, Illinois Smooth Ambler Old Scout Bourbon, West Virginia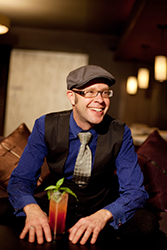 Adam Seger
Mixologist, CCP