Early Winter Blancmange with Flavors of Vibrant Cauliflower, Hen of the Woods Mushrooms, Juniper, and Pine
Serves 8
For the blancmange:
½ cup cauliflower purée made from white cauliflower
½ cup whipping heavy cream
3 tablespoons juniper berries, crushed
¼ c. balsam fir sprouts, dried
5 sheets bloomed gelatin
Make a smooth cauliflower purée. Heat cream with the dried balsam fir sprouts and crushed juniper berries. Mix purée with the cream and bring to a boil. Remove from heat and add in the bloomed gelatin. (To bloom, soak gelatin sheets in cold water until soft; squeeze to remove excess water.)
Incorporate the gelatin as it melts; mix thoroughly and remove from heat. Pass through a fine chinois. Place mixture in an ISI canister and charge with two nitrous oxide cartridges. Hold warm until ready to use.
1 head of white cauliflower
½ cup heavy cream
2 tablespoons butter
3 pounds vibrantly colored cauliflower (purple, orange, green romesco)
¼ cup extra-virgin olive oil
1 pound Hen of the Woods mushrooms
3 ounces unsalted butter
kosher salt and cracked black pepper
3 sprigs thyme
2 tablespoons pickled immature juniper berries
pine or fir needles, fried, for garnish
Clean a head of white cauliflower. Cook until completely tender in boiling salted water. Remove from heat, purée in a food processor until smooth. Add in warm heavy whipping cream and 2 tablespoons soft butter. Season to taste with kosher salt and cracked black pepper. Keep warm.
Clean the heads of the colored cauliflower and cut into thick cross-section slices. Place slices onto a silpad- or parchment paper–lined baking sheet. Drizzle with extra-virgin olive oil; season with kosher salt and cracked black pepper. Roast in a 400ºF oven until tender and nicely browned.
Clean the Hen of the Woods mushrooms or other foraged or cultivated mushrooms by removing the very thick base stem. Sauté over high heat in the unsalted butter, seasoned with salt, pepper, and thyme sprigs, until golden brown and very juicy. Add in the pickled juniper berries.
To serve:
Spread a spoonful of cauliflower purée on the plate; arrange a few cross-sections of roasted vibrantly colored cauliflower and a very healthy portion of the mushrooms. Shake the ISI canister and dispense the blancmange into a couple nice snowy mounds of the mixture on the plate. Sprinkle fried tender pine or fir needles and serve.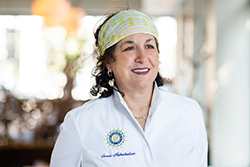 Carrie Nahabedian
NAHA and Brindille