Turkey and Chanterelles
turkey breast (boned, halved, skin-on), approximately one per person
chanterelle and maitake duxelle (recipe follows)
salt and freshly ground black pepper
3 ounces blended oil
2–3 fresh thyme sprigs
2 tablespoons butter
For chanterelle and maitake duxelles:
3 tablespoons butter
6 ounces chanterelle mushrooms, pulsed in food processor
6 ounces maitake mushrooms, pulsed in food processor
2 shallots, minced
salt and pepper
8 ounces white wine
To make the duxelles, melt butter in small rondeaux over low heat. Add mushrooms and shallots; turn heat to medium high. Cook, stirring occasionally to prevent mushrooms from sticking or clumping together. Lower heat once mushrooms become fragrant, about 7 minutes. Season with salt and pepper and add wine. Lower heat and cook slowly until all the wine has evaporated and the mushrooms begin to dry out. Cool, and reserve.
For chanterelle mushroom jus:
2 tablespoons butter
1 carrot, peeled, roughly chopped
1 head of garlic, cut horizontally)
1 onion, roughly chopped
1 pound button mushrooms, roughly chopped
½ gallon veal stock
2 tablespoons palm sugar, or to taste
1 orange, zest
Sweat carrots, garlic, onion, and mushrooms in butter over low heat until onions are translucent and aromatic. Add the veal stock, palm sugar, orange zest, and reduce by one third.
For turkey:
Lay turkey breast on plastic film, cover with additional film, and pound slightly until turkey is approximately 7½ inches wide by 10 inches long. Remove plastic film covering and generously season both sides of the breast with salt and pepper.
Return turkey breast to original position on plastic with the skin side down, and lay the mushroom duxelles down the left side of the breast lengthwise. Using the plastic film as a guide, roll up the breast around the mushroom mixture. Tie the breast using butchers twine, wrap in fresh plastic, and refrigerate for approximately 2 hours.
Remove plastic film, heat blended oil in large sauté pan over high heat. Add turkey breast and sear until evenly golden brown.
Place in a 450ºF oven until cooked through (internal thermometer should read 155–160ºF). Remove from oven, and add butter and thyme; then return to oven, basting for 5–10 minutes.
Remove from oven, and rest breast 14 minutes; cut off twine and slice into one-inch rounds. Serve with chanterelle jus.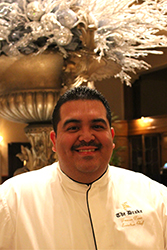 Franco Diaz
Coq d'Or