Persimmon Pudding Pie
For short crust:
2 cups all-purpose flour
3 tablespoons granulated sugar
½ teaspoon salt
6 ounces unsalted butter, chilled (1½ sticks)
A bit of ice water
For filling:
4 eggs, beaten well
1 cup granulated sugar
1 teaspoon kosher salt
½ teaspoon ground cinnamon
½ teaspoon ground allspice
1 teaspoon ground coriander
½ teaspoon fresh ground black pepper
1 pint strained wild persimmon pulp
1 cup heavy whipping cream
Preheat oven to 325°F.
Make the crust according to standard short paste procedures. Chill before rolling out. Line a 10-inch tart pan and chill thoroughly. Use pie weights, or line with foil and fill with beans, and parbake the crust in the preheated oven for 20 minutes before filling.
In a 4-quart mixing bowl, beat the eggs until frothy; then beat in the sugar. Add the remaining ingredients and whisk until evenly combined. Pour into your prepared 10-inch pie crust, and bake in a 325°F oven on the top rack, until lightly browned on top and set in the center, approximately 30 minutes. It will jiggle as one mass when shaken when it is done. If the center is liquid or wavy when shaken, continue baking. Cool on a wire rack for an hour before serving. May be covered and refrigerated up to one week.
Drizzle with sorghum molasses and serve with vanilla ice cream or fresh whipped cream.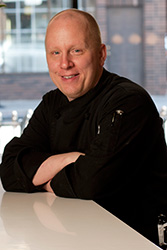 Paul Fehribach
Big Jones