Lobster Thermidor Sausage with Wild Mushrooms, Mussels, and Sea Beans
Serves 4–6
For lobster sausage:
2 pounds lobster meat
¾ pound shrimp meat
¾ pound scallop meat
3 ounces lobster roe (purée)
3 eggs
1 ounce salt
2½ tablespoons porcini powder
3 tablespoons parsley, chopped
2 tablespoons Dijon mustard
1½ tablespoons lemon juice
2 cloves garlic, microplaned
2 teaspoons espelette pepper
¾ cup parmesan cheese
3 cups heavy cream
First chunk all meat in to 1-inch cubes. Then in food processor combine all ingredients except ½ pound lobster and heavy cream; blend until only small chunks remain. Once almost smooth, slowly start adding cream until all is incorporated. Lastly slowly pulse the remaining lobster meat into the sausage mixture, making sure to keep the lobster in small to medium chunks in order to give the sausage some texture. Sausages should be 4 inches long and can be shaped in hog casings or wrapped tightly in plastic wrap and then poached before grilling. Test the sausage by simmering it in water for 3–5 minutes until cooked through. Taste and adjust seasoning.
To serve:
4 lobster sausages
extra-virgin olive oil
3 shallots, slivered
2 cloves garlic, slivered
1 teaspoon chili flakes
1 pound porcini mushrooms
12–16 mussels
¼ cup white wine
¼ cup cream
3 tablespoons butter
½ pound sea beans, blanched and shocked
1 lemon for juice
salt and pepper
2 tablespoons tarragon
Turn on grill and bring a medium-sized sauté pan to medium heat. Place the sausages on the grill over indirect heat. While those are cooking, go to the sauté pan. Place a small amount of olive oil in the pan and once hot, throw in your shallots, garlic, and chili flakes, and sweat until translucent; then add mushrooms.
Once the mushrooms start to soak up the oil and get a little caramelized, add the mussels. Give them a stir and add the white wine; cover for 30 seconds to a minute. Uncover and put in the cream, even if the mussels haven't opened yet; they will very soon. Let that cook for another 30 seconds or so. Lastly finish by adding the butter and sea beans. Taste and then add the lemon juice to desired taste. Once the sausages are cooked, place them on a plate and pour the mushroom, sea bean, and mussel mixture over them evenly. Since you will have poached your sausages through, they only need to be warmed through on the grill. Finish with coarsely chopped tarragon and serve immediately. (A grill pan can be used for indoors).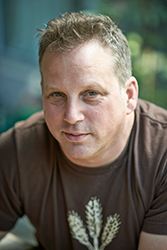 Paul Kahan
Blackbird, Publican Quality Meats, avec, The Publican, Big Star