Green Bean Casserole Dip
2 pounds haricots verts, blanched and shocked
2 cups hummus
4 tablespoons olive oil
1 pound mushrooms, sliced
2 tablespoons sherry vinegar
1 tablespoon garlic, minced
4 ounces cream cheese
4 ounces Greek yogurt
½ cup crème fraîche
1 cup gruyère, shredded
1 cup mozzarella, shredded
French's french-fried onions
1 tablespoon Worcestershire sauce
In a food processor, purée blanched haricots verts with 1 cup of hummus and set aside.
Sauté mushrooms in olive oil until brown; season with salt and pepper. Add sherry vinegar and minced garlic; sauté for 30 seconds more.
In a bowl, combine cream cheese, yogurt, remaining cup hummus, crème fraîche, half of gruyere, half of mozzarella, 3 ounces French's onions, Worcestershire sauce, and sautéed mushroom mixture. Mix until well combined.
Grease a casserole dish and pour above mixture evenly into pan. Spoon green bean purée in dollops over the top. Using a knife, swirl the green bean mixture into the creamy layer.
Top dip with the rest of French's onions and remaining cheese.
Bake in 350ºF oven for 30 minutes uncovered until bubby and hot.
Serve with pita chips.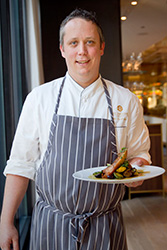 Tim Graham
Travelle