Spicy Peanut Soup
Serves 6–8
3 tablespoons olive oil or vegetable oil
1 medium onions, sliced
2 cloves garlic, peeled and sliced
1 3-inch piece fresh ginger, peeled and thinly sliced
1½ pounds sweet potatoes, peeled and chopped
1 medium carrot, peeled and chopped
2 teaspoons coriander seed, toasted and ground
2 teaspoons cumin seed, toasted and ground
½ teaspoon ground cinnamon
2 cloves, ground
pinch cayenne (or more to taste)
3 medium tomatoes, seeded and chopped
1 quart vegetable stock
2 tablespoons creamy peanut butter
2/3 cup coconut milk
salt to taste
chopped cilantro
¼ cup of dry roasted peanuts chopped
Heat a heavy-bottomed 6-quart stockpot over medium low heat. Add the oil. After 30 seconds, add the onions, garlic, ginger, sweet potato, and carrot; sweat the vegetables until the onions begin to become translucent, about 4–5 minutes. Season lightly with salt.
When vegetables have begun to soften, add the spices and stir to coat the vegetables. Add the diced tomatoes and stir to combine. Add the vegetable stock and allow the mixture to heat until a simmer. Simmer until vegetables are completely softened, about 25 minutes.
Pour soup mixture into a food processor or blender, and process until smooth. Return soup to original pot. Add peanut butter and stir to combine. Add coconut milk. Taste soup and adjust seasoning as necessary.
Ladle soup into bowls and sprinkle with chopped cilantro and peanuts. Serve hot!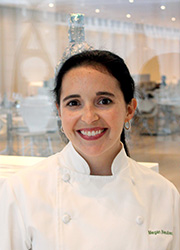 Megan Neubeck
Terzo Piano