Eggplant Caponata with Dark Chocolate and Amaretto Cookie
5 pounds Italian eggplant
2 pounds zucchini or summer squash
2 medium Tropea onions (Spanish onions will work too), skinned and cut in half
1 jar sun-dried tomatoes packed in oil (Pachinos are best)
½ cup almonds, skin-on, toasted and chopped
½ cup pine nuts, toasted
3 tablespoons sugar
3 tablespoons kosher salt
½ cup red wine vinegar
10 basil leaves, torn
½ cup extra-virgin olive oil
6 ounces dark chocolate, grated
4 ounces amaretto cookies, crushed
Begin by heating a gas or charcoal grill to high heat. (You can also use a grill pan.) Meanwhile, toss eggplant, onions, and zucchini lightly in olive oil and season with salt. Arrange vegetables on several layers of tin foil, place in the center of the grill, and close the lid. Periodically check and turn the vegetables to see that they are evenly roasted. Vegetables are done when they have softened and gained a bit of char on the outside.
Split the zucchini down the middle and rough chop; reserve. Peel the skin from the eggplant, slice into rounds, and rough chop. Rough chop the onion. Add all vegetables to a large mixing bowl while still hot. Add tomatoes, almonds, pine nuts, sugar, salt, vinegar, basil leaves, and olive oil. Allow mixture to cool slightly before folding in chocolate and amaretto cookie.
The caponata can be served immediately but will be much better if served the next day after allowing the flavors to come together. Enjoy as an accompaniment to roasted fish or meats or as an antipasti spread on grilled bread.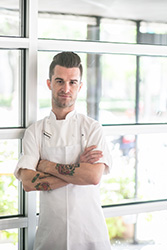 Erik Freeberg
Bar Toma