Turkey with Grappa and Gremolata
Serves 8–10
For brine:
1 cup kosher salt
¼ cup sugar
1 gallon water
1 turkey, approximately 12 pounds, backbone removed, butterflied open (ask the butcher to do this for you), reserving the backbone and the neck for stock
For roasting the turkey:
1 head garlic, cut in half crosswise
2 tablespoons olive oil
¼ cup grappa
2 tablespoons fresh sage, coarsely chopped
2 tablespoons fresh rosemary, coarsely chopped
1 teaspoon sea salt
1 tablespoon freshly ground black pepper
For gremolata:
2 tablespoons fresh sage, finely chopped
2 tablespoons lemon zest, finely chopped
2 tablespoon garlic, finely chopped
To start, prepare the brining solution. Put the salt, sugar, and water in a pot large enough to hold all the ingredients. Bring the solution to a boil over high heat. Refrigerate the mixture overnight to cool.
Remove the brine from the refrigerator. Place prepared turkey in a large pot and add the brining solution to cover the bird by one inch. Add additional cold water if needed to cover. Brine for 8–10 hours in the refrigerator.
Preheat oven to 350ºF.
Remove the bird from the brining solution and pat well to dry. Have ready a roasting pan large enough to hold the butterflied bird. Place the split garlic bulb in the center of the pan and pour oil over and around the garlic.
Pour the grappa over the bird and rub it in on both sides. Repeat with the sage, rosemary, salt, and pepper. Place the bird, skin side up, in the pan over the garlic. Cook for 2½ hours or until an instant-read thermometer registers 180ºF when inserted into the thigh.
Meanwhile, prepare the gremolata. Combine the chopped sage with the chopped lemon zest and chopped garlic. Set aside.
When cooked, remove the turkey from the oven. Transfer the bird to a serving platter and sprinkle with gremolata. Let the bird rest for 15 minutes.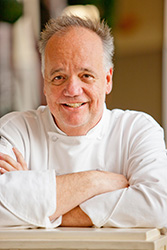 Tony and Cathy Mantuano
Terzo Piano, Spiaggia, Bar Toma