Butter-Poached Maine Lobster, Ricotta Gnocchi, and Creamed Spinach
For gnocchi:
1 pound fresh cow's milk ricotta
2 ounces grated parmesan
2 teaspoon kosher salt
1 teaspoon ground black pepper
½ teaspoon grated fresh nutmeg
3 eggs
3 cups flour
In a large mixing bowl, combine ricotta, parmesan, nutmeg, salt, and pepper. Add eggs and mix until everything is incorporated. Slowly add flour and keep mixing by hand until thoroughly mixed and has the consistency of fresh pasta. Let the gnocchi dough rest for 30 minutes.
Take a small amount of mixture about the size of a baseball and roll it out by hand on a lightly floured cutting board until it forms a cylinder about ¾-inch thick. Cut gnocchi into pieces about one-inch long. This recipe will yield over 40 pieces.
To cook, place the gnocchi in boiling salted water until the gnocchi rise to the top and then cook another 2 minutes. Cool in cold water, drain, and reserve in a covered dish.
For butter-poached lobster:
4 whole live lobsters, 1¼ pounds each
2 gallons boiling salted water
salt to taste
1 pound unsalted butter
Boil the lobsters for 7 minutes in heavily salted water; shock in ice water. Remove the lobsters when just cool and crack the shells with a mallet or poultry scissors. Remove the tail, claw, and knuckle meat, reserving the flesh until service time. Cut the lobster meat into gnocchi-size chunks.
For the creamed spinach:
3 tablespoons unsalted butter
3 shallots, finely diced
2 cloves garlic, finely chopped
½ cup heavy cream
salt and pepper to taste
1/8 teaspoon cayenne pepper
1/8 teaspoon fresh grated nutmeg
12 ounces fresh spinach leaves
In a large sauté pan, melt the butter and add the shallots. Sweat over medium heat gently browning the shallots and butter. Add the garlic and cook for a few more seconds. Add the cream, bring to a boil, and reduce by one-third. Add the spices, then spinach. Cook quickly over high heat until the spinach is just cooked. Keep warm!
To serve:
Melt 4 ounces of butter (per serving) in a large sauté pan over a low flame. Add the gnocchi and lobster meat; slowly warm.
On a plate, spoon a small amount of the creamed spinach. Place the warm lobster and gnocchi on top; sprinkle with parsley or chervil and serve.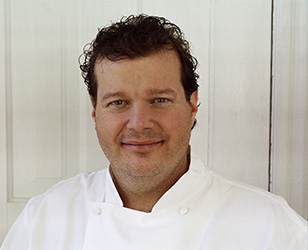 Michael Kornick
mk