Sweet Potato Pudding Bonbons
Makes 25 bonbons
For shells:
tempered dark chocolate, as needed,
Create thin bonbon shells using the chocolate and a polycarbonate mold. Alternatively, you can purchase dark chocolate dessert cups. (You will need 25.)
For filling
38 grams sugar
100 grams cream
40 grams egg yolks
10 grams sugar
3 grams gelatin sheets
100 grams roasted sweet potato purée, from 3 potatoes (recipe follows)
0.4 grams salt
0.8 grams vanilla extract
60 grams cream, whipped to soft peaks
Wash the sweet potatoes and prick several times with a fork. Rub with olive oil and wrap in foil. Bake at 375˚F until soft all the way through. Remove the skins and purée the sweet potatoes—scale amount needed.
Caramelize the first amount of sugar to a deep brown. Deglaze with the first amount of cream and return to a boil. Whisk together the egg yolks and 10 grams sugar. Temper into the caramel cream. Bring up to 82˚C. Whisk in the bloomed gelatin, salt, vanilla, and sweet potato purée. Strain.
Let set completely. Paddle in stand mixer until creamy. Fold in whipped cream.
For oatmeal streusel:
224 grams butter
224 grams brown sugar
112 grams all-purpose flour
112 grams oats
5 grams salt
4 grams ground cinnamon
Combine all ingredients except butter. Cut in the cold, cubed butter until sandy. Bake at 325˚F until golden, stirring often. Break into small chunks.
For rocher:
300 grams Jivara milk chocolate
100 grams hazelnut Pino Pinguino
375 grams cornflakes
100 grams oatmeal streusel
75 grams feuilletine
100 grams caramelized rice krispies
pinch salt
Temper the milk chocolate. Stir in the Pino Pinguino. Stir in the remaining ingredients. Spread on a silpat to set. Once chocolate has hardened, crush into crumbly texture.
To serve:
Fill the prepared chocolate shells almost all the way with the sweet potato filling. Sprinkle a little bit of rocher on top of each shell and serve.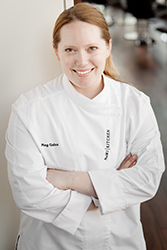 Meg Galus
NoMI Kitchen