Cornbread with Foie Gras Butter and Pear Marmalade
For cornbread:
3 eggs
4 ounces sugar
1 cup sour cream
1 cup buttermilk
3 ounces honey
1½ cups all-purpose flour
1½ cups Geechie Boy cornmeal (Geechie Boy grits are available on our website under producers, or substitute any high-quality fine ground cornmeal)
1 tablespoon baking powder
¾ teaspoon baking soda
1½ tablespoons salt
¼ teaspoon cayenne pepper
6 ounces butter, melted plus 1 ounce for greasing skillet
Preheat oven to 375ºF and place empty skillet in oven skillet to heat until ready to bake.
Whisk eggs and sugar together until slightly frothy. Stir in sour cream, buttermilk, and honey. Whisk dry ingredients together in a separate bowl; then incorporate into wet with a wooden spoon until only slightly lumpy (not a whisk—this is important). Add butter and stir vigorously until incorporated. Pour into a hot and thoroughly greased cast iron skillet and bake for 25–30 minutes until a cake tester or toothpick comes out clean when inserted in center of cornbread.
Allow to cool slightly; then invert onto a cutting board. Cut into desired portions or serve whole and allow guests to cut.
Note: You may use a baking pan or sheet tray if desired, but preheat and grease the cookware the same way.
For foie gras butter:
8 ounces butter, softened
8 ounces smoked foie gras, room temperature
salt, to taste
In a food processor, blend the butter until smooth and add the foie gras. Continue to blend until the mixture is smooth and consistent throughout. Season with salt to taste.
For spiced pear marmalade:
1 tablespoon butter
8 Bosc pears, peeled, cored, diced
1 cup port wine
¼ cup apple cider
¼ cup sugar
1 tablespoon salt
½ teaspoon cinnamon
½ teaspoon nutmeg
¼ teaspoon cayenne
Sweat pears in butter until softened. Add the port and simmer until almost reduced to syrup. Add the apple cider, sugar, salt, cinnamon, nutmeg, and cayenne. Cook down on low heat until thickened to marmalade consistency.
Plating instructions for one serving:
1 slice cornbread, cut to desired size
3 ounces spiced pear marmalade
2 ounces foie gras butter
chives and sea salt to garnish
Top cornbread with a 3-ounce spoonful of marmalade. On top of marmalade, dollop foie gras butter. Garnish with chopped chives and sea salt.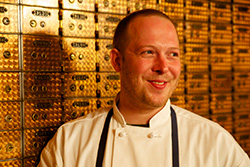 Mark Steuer
Carriage House