Pear-Pumpkin Salad
Makes 6 servings
1/3 cup olive oil
2 red onions, thinly sliced
½ cup roughly chopped pumpkin or butternut squash, cut into ¼-inch pieces
salt
freshly ground pepper
2 Asian pears, cored and thinly sliced
4 heads curly endive, thinly sliced
2 tablespoons chopped chives
2 tablespoons sherry vinegar
1 cup feta cheese, cut into ½-inch cubes
pumpkin seed vinaigrette (recipe follows)
Heat the olive oil in a large sauté pan over medium heat. Add the onion and pumpkin, season with salt and pepper, and sauté until pumpkin is lightly browned, about 10 minutes. Remove from heat and transfer to a bowl. Let cool slightly; then toss with the pear, endive, chives and vinegar. Garnish with feta and drizzle with pumpkin seed vinaigrette.
For pumpkin seed vinaigrette:
Makes ½ cup
2 tablespoons pumpkin seeds
1 egg yolk
3 tablespoons heavy cream
1 garlic clove, chopped
½ cup olive oil
juice of 1 lime
2 teaspoons pumpkin seed oil
salt
freshly ground pepper
Heat a small sauté pan over low heat. Add the pumpkin seeds and toast until golden and fragrant, about 3 minutes.
Blend the egg yolk, cream, and garlic in a blender until frothy and lemon colored. With the blender running, add the olive oil in a thin, steady stream until emulsified. Add the lime juice and pumpkin seed oil. Season with salt and pepper and then stir in the pumpkin seeds.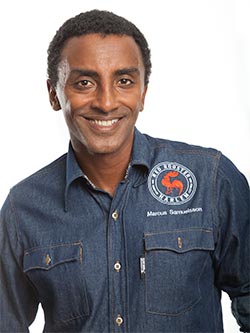 Marcus Samuelsson
Red Rooster Harlem, Ginny's Super Club, American Table Café and Bar, Kitchen and Table, Norda