Chicken Nuggets with Rooster Hot Sauce
Makes 6 servings
1½ pounds skinless, boneless chicken breast tenders or chicken stir-fry, cut into 3- by 1-inch strips
½ cup flour
½ cup cornmeal
½cup cornstarch
1 teaspoon fresh thyme leaves
1 teaspoon dried rosemary
2 garlic cloves, minced
juice of 1 lemon
6 drops Tabasco sauce
2 tablespoons plus ½ cup olive oil
kosher salt and freshly ground pepper
rooster hot sauce (recipe follows)
In a mixing bowl, combine the minced garlic, lemon juice, Tabasco sauce, and 2 tablespoons of olive oil; then season with a sprinkle of salt and pepper to taste. Place the chicken pieces in the marinade and toss the mixture. Set aside to allow the flavors of the marinade to develop.
In a second mixing bowl, combine the flour, cornmeal, cornstarch, thyme leaves, dried rosemary, and ½ teaspoon salt. Place the chicken pieces in the flour mixture and toss them to coat. Make sure to wash your hands after you handle the chicken. In a large skillet, heat the remaining olive oil over high heat. Once the skillet has been heated for about a minute, add the chicken breast tenders and sauté, without moving them, until golden, about 1 minute. Using tongs, turn the pieces over and sauté the other side until golden, about 3 minutes. Reduce the heat to low and continue to sauté, turning the pieces frequently, until the chicken is cooked through and the chicken nuggets are completely golden brown, 5 to 10 minutes. Transfer to plates lined with paper towels to drain excess oil.
For rooster hot sauce:
Makes 1 quart
6 red bell peppers
1 jalapeno pepper, seeded and chopped
1 cup apple cider vinegar
2 shallots, sliced
2 ounces garlic confit
2 ounces sugar
2 ounces salt
4 ounces cumin
4 ounces tomato powder
2 ounces mustard powder
4 ounces smoked paprika
4 ounces cayenne powder
2 cups olive oil
Preheat oven to 450ºF.
Arrange red bell peppers on a sheet tray and place in the oven, turning every 15 minutes until slightly charred and done (about 30 minutes total). Remove from the oven and let the peppers cool, then seed.
Place all the ingredients except for the olive oil in a food processor. Blend the ingredients, slowly pouring in oil, until fully incorporated and smooth. Store in tightly sealed container and refrigerate.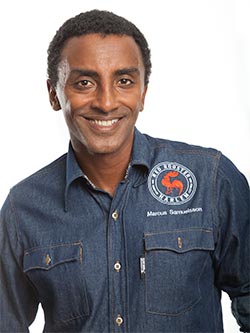 Marcus Samuelsson
Red Rooster Harlem, Ginny's Super Club, American Table Café and Bar, Kitchen and Table, Norda