Seafood Chowder
Serves 10, bite-size portions
For shrimp chip:
¾ cup tapioca
½ cup water
¾ cup shrimp
Process all ingredients in the food processor until a paste forms. Roll out between two layers of plastic wrap, and steam for 20 minutes. Dehydrate at 165˚F for 10 hours. Fry at 400˚F until golden brown.
For parsley sauce:
¼ cup corn maltodextrin
½ cup parsley
¾ cup water
½ cup ice
Bring the water and maltodextrin to a boil; then add the parsley. Place in blender and purée. Strain through a chinois and cool over ice. Reserve.
For chowder:
2 teaspoons bacon
1 tablespoon onion
1 tablespoon fennel
½ cup cream
2 fingerling potatoes
1/8 teaspoon Old Bay
1½ tablespoons white wine
7 bay leaves
½ cup cooked crab meat
¼ cup celery heart leaves, diced
Render the bacon until crisp; then add onion and fennel and cook until translucent. Deglaze with white wine, and reduce; then add cream, potatoes, and Old Bay seasoning. Cook until the vegetables are tender; then remove them from the cream, cool, and reserve for assembly. Add the bay leaves and reduce the cream by one half. Thicken remaining cream with .7% ultratex 8 and cool. (If you don't have ultratex on hand, simply reduce to a thicker consistency.)
To serve:
Dress the potato/onion/fennel mixture with the thickened cream. Add shredded crab, celery heart leaves, and place on top of the shrimp cracker. Garnish with parsley sauce and peppercorn bubbles.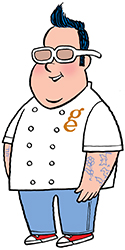 Graham Elliot
Graham Elliot