Baked Halibut en Persillade, Steamed Root Vegetables, Garlic Mashed Potatoes
6 baby carrots, peeled, green tops left on
5 baby turnips
3 ounces broccoli florets
6 ounces Wild Alaskan halibut
2 lemon wheels
1 thyme sprig
3 tablespoons olive oil
3 ounces white wine
2 tablespoons whole butter
3 ounces chicken stock
1½ ounces panko, lightly browned
1 garlic clove, minced
1 gram parsley, chopped
1 lemon, zested
Bring pot of salted water to a boil. Blanch the cleaned and trimmed baby carrots, turnips, and broccoli florets separately, and transfer to an ice bath. Drain the vegetables and reserve. In a hot skillet or broiler, drizzle small amount of olive oil on the broccoli, season with salt and pepper, and lightly char. The charred florets brings in a nice depth of flavor to the dish, but not necessary.
Blot the halibut with paper towels to remove any excess moisture. Season with salt and place on a sheet of parchment paper large enough to fold over the fish. Layer the lemon wheels on top of the halibut and place thyme sprig over the lemon. Season the broccoli, baby carrots, and turnips with salt and arrange around the fish. Drizzle the fish and vegetables with 2 tablespoons of olive oil, white wine, and butter. Add the chicken stock and wrap the parchment around the fish, pinching the edges together. Place fish in 350ºF oven and bake for 9 minutes.
While fish is baking, mix together toasted panko breadcrumbs, garlic, parsley, and lemon zest. When fish is finished cooking, transfer to small sheet tray and remove the lemon and thyme sprig. Top the fish with breadcrumb mixture and toast under broiler, about 10 seconds.
For the garlic mashed potatoes:
1 pound Yukon Gold potatoes, peeled and diced
6 garlic cloves
1 cup buttermilk
¼ cup whole butter
1 teaspoon chives
Place peeled and chopped potatoes along with garlic in pot of water and bring to a boil. Gently heat the buttermilk in a saucepan over low heat, just to warm. (The buttermilk will curdle if heated too high.) Chop the butter into small cubes.
Potatoes are finished cooking when they can easily be pierced with a fork. Drain the water; transfer potatoes and garlic to a ricer and mash. Using a rubber spatula, fold in buttermilk and whole butter, until fully incorporated. Season with salt.
To serve:
Place the fish on a plate and arrange vegetables next to it. Garnish the dish with a touch of olive oil and fresh lemon juice and spoon some of the remaining cooking liquid from the fish on the plate. Spoon mashed potatoes into a small bowl and garnish with chopped chives; serve alongside fish.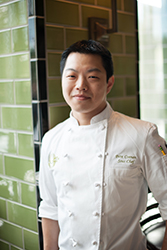 Peter Coenen
The Gage