Gift to be Humble
Reminds you of Thanksgiving in a really clean way
2 ounces cranberry-infused vodka (recipe follows)
½ ounce Campari
½ ounce lemon juice
¼ ounce cinnamon syrup (recipe follows)
7 drops of saline
2 dashes Angostura bitters
Shake and strain into large coupe. Garnish with orange oil.
For cranberry-infused vodka:
To make the vodka, lightly heat a pound of fresh cranberries in a dry pan with a couple of orange peels until the berries break. Seal the berries with one bottle of vodka in an airtight container and allow to infuse for a minimum of 5 days. After that time, fine strain vodka off from berries with a tea strainer. Place back in original vodka bottle and cap.
For cinnamon syrup:
Use demerara (or turbinado sugar) to make a syrup of two cups sugar and one cup water. Heat syrup just below boiling until sugar is dissolved. Crush six cinnamon sticks up and add to hot syrup. Allow to steep 1 hour and fine strain. Bottle and cap. Syrup will last 3 weeks.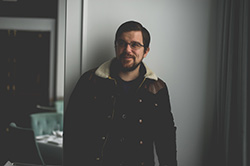 Clint Rogers
The Dawson