Veggie Potato Pot Pies
Serves 6
vegan buttery spread
¼ cup plus 2 tablespoons olive oil
2 16-ounce bags frozen mixed vegetables (green beans, carrots, corn, and peas)
sea salt
¼ cup garlic, chopped
2 tablespoons red miso
3 cups cold water
3 tablespoons cornstarch
8 cups potatoes, cooked and mashed
1 10-inch piecrust
Preheat oven to 400ºF. Coat 6 four-inch ramekins with the vegan buttery spread. Set aside.
Heat the oil in a large saucepan on medium heat. Add the frozen vegetables and salt to taste. Cook and stir for about 5 minutes, or until the vegetables are tender. Add the garlic and the miso.
Meanwhile, combine the water and cornstarch in a bowl until smooth. Stir it into the vegetables. Form the mashed potatoes into 1½-inch balls and add them to the saucepan with the vegetable mixture. Cover and remove from heat.
Cut the piecrust into circles to fit the tops of the ramekins, gathering up the scraps and rolling out to cut more circles. Divide the vegetable mixture among the ramekins. Top each with a piecrust circle. Poke four slits into each piecrust with a sharp knife. Bake for 30 minutes, or until the crust are golden brown.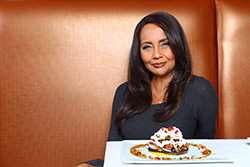 Karyn Calabrese
Karyn's Raw Café, Karyn's At Home, Karyn's Cooked