Apple-Cranberry Fall-Spiced Spanish Brandy with Pimms
Served neat, up with apple cider or as a hot toddy.
1½ ounces infused brandy (recipe follows)
½ ounce Pimms
½ ounce Depaz cane syrup
4 dashes of housemade bitters
3 ounces Crispin cider
Lemon twist to garnish
In a rocks glass, combine infused brandy, Pimms, and cane syrup. Shake over ice. Double strain into a Martini glass. Top off with cider. Add 4 dashes of housemade bitters. Garnish with a lemon twist.
For infused brandy:
5 bottles Torres Spanish brandy (10 year)
6 red delicious apples, cut into quarters
1 quart fresh cranberries
3 cinnamon sticks
3 whole nutmegs
1 tablespoon whole cloves
3 star anise
In a large container, pour 5 bottles of brandy. Cut apples into wedges and gently add them to the container. In a saucepan, heat the cranberries with a small amount of simple syrup. After the cranberries are cooked down, add to the container with brandy. Toast cinnamon, nutmeg, cloves, and anise in a large pan and gently add to the brandy mix. Place a lid on the container and refrigerate for at least 3 days. Once the ingredients are infused, strain the brandy through a fine chinois to purify the liquid.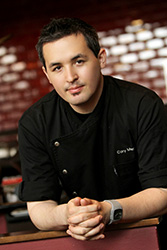 Cory Morris
Mercat a la Planxa