Honeycrisp Apple Fritter with Apple Cider Frozen Yogurt
For the apple cider frozen yogurt:
3 cups apple cider
½ cup corn syrup
1 ¾ cups sugar
1 teaspoon salt
1 tub (500 grams) Greek yogurt
In a pot, bring the apple cider, corn syrup, sugar, and salt to a boil. Then remove from heat and cool completely. Once cool, add the yogurt and mix until a smooth consistency is reached. Then place the mixture in a covered container or ice cream machine and freeze.
For the glaze:
4 cups powdered sugar
½ cups milk
While the fritter dough is rising, whisk together the powdered sugar and remaining ½ cup milk until a smooth consistency is reached.
For the apple fritters:
5 cups bread flour
½ cup butter, softened
1 cup plus 2 teaspoons sugar
2 teaspoons salt
1 packet active dry yeast
1½ cups milk
4 Honeycrisp apples, peeled, small dice
1 cup sugar
1 cup all-purpose flour
¼ cup cinnamon
In a pot over medium heat, warm the milk. Stir in the packet of yeast; remove from heat and let stand for 5 minutes.
In a stand mixer fitted with a dough hook, add in the milk and yeast mixture, bread flour, butter, salt, and 2 teaspoons sugar, and mix on low speed for 7 minutes, until the dough is glossy. Remove the dough hook, cover the bowl, and let the dough rise for one hour.
In a separate bowl, mix together the apples with the all-purpose flour, cinnamon, and remaining cup of sugar. Set aside.
After the dough has rested for an hour, roll it out into a rectangle on a floured work surface until the dough is ¼ inch thick. The rectangle should be approximately 2 feet x 1 foot.
Spread the diced apple mixture evenly over the dough. Starting from one of the long edges, roll the dough up into a log. Using a knife or pastry cutter, chop the log into small chunks. The dough and apples should be well incorporated. Add flour as needed while chopping to keep the big chunks of dough from sticking together. Then separate and form the dough into loose baseball-sized portions. (Imagine chopping thick chunks of beef and then forming into loose hamburger patties). Let rise for one hour.
Once risen, in a large frying pan or deep fryer, heat vegetable oil to 350˚F and fry the dough portions on both sides to golden brown.
Remove fritters from the hot oil and place on a metal drying rack. Immediately coat the fritters with a layer of glaze.
Serve warm with a scoop of apple cider frozen yogurt.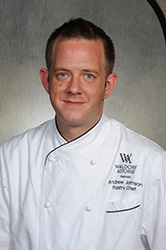 Andrew Johnson
Balsan at the Waldorf Astoria Chicago